CollegeCSM
Start dateStage 1: October / Stage 2: January
Course length10 weeks per stage
Graphic Design Portfolio Course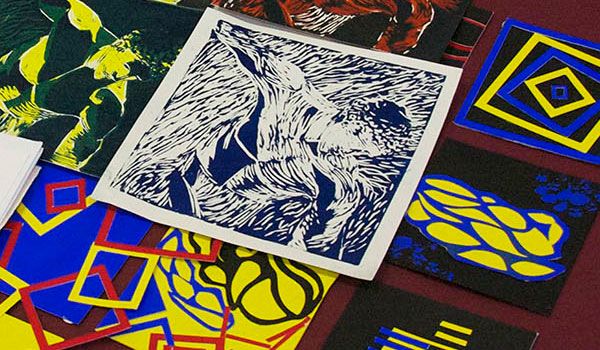 We are accepting applications for Stage 1 starting in October 2018.
Overview
Over two stages the Graphic Design Portfolio Course provides students with a solid foundation in graphic design or to develop established skills. It is expected that the majority of students will use the course to apply to a BA or MA course by building an original and effective graphic design portfolio. This is not a computer software course but rather reflects the studio based and idea generation nature of graphic design. It is highly international and sympathetic to the needs of international students.
Course structure
The course assists you in realising your goals through common creative exercises, lectures, workshops, demonstrations, visits and individual tuition. It will make full use of the cultural aspects of London and there may also be the opportunity to get involved in live briefs from the industry, offering you a further taste of the BA and MA courses at Central Saint Martins.
Each stage is taught on a progressive basis; you are recommended to take both stages, but other entry points are available providing your work, ability and experience is at the appropriate level for entry.
Stage 1: for students developing/revisiting/finalising their portfolios (open to all)
Stage 2: for students finalising/refining their portfolios (open to all)
Curriculum / learning and teaching
Over the two stages the course covers...
Back to basics (covered in stage 1), areas of study include:
History of graphic design
Typography basics
Basic creative thinking techniques and processes in graphic design
Narrative environments (exterior space)
Life drawing (colour and movement)
Printmaking (silkscreen)
Digital design (flash website design)
Photography
Live projects
Specialist creative workshops with London based designers, college staff and alumni
Principles and processes (covered over stages 1 and 2), areas of study include:
Creative thinking techniques and processes in graphic design
Wit and humour in visual communications
Typography (rules, grids, composition and information hierarchies)
Narrative environments (interior space)
Printmaking (monoprinting and lino cut)
Life drawing (form and tone)
Digital design (Photoshop)
Photography
Live Projects
Professional preparations (covered in stage 2), areas of study include:
Portfolio review by BA and MA course directors
Portfolio surgery (intense preparation for BA, MA or professional review and interviews)
Advertising
Narrative environments (public space)
Printmaking (drypoint)
Life drawing (space and depth)
Digital design (InDesign)
Photography
Personal projects and research
Live projects
Pathways and routes
The course aims to serve the needs and ambitions of three main student groups:
Those seeking to build a portfolio for application to BA Graphic Design at Central Saint Martins or elsewhere
Those seeking to build a portfolio for application to MA Communication Design at Central Saint Martins or elsewhere
Professionals seeking to renew their creativity through personal projects, new processes and produce a fresh portfolio with a creative London edge
Staff
Jamie Hearn (course leader) is a designer, artist and lecturer living and working in London. He began his Foundation studies at Central Saint Martins, after winning the prestigious Designer of the Future competition run by the Design Museum London. He studied on the BA Graphic Design course at Central Saint Martins, and after graduating became the college's artist in residence in Printmaking. Since graduation he has been a visiting lecturer to the college, teaching a variety of classes and short courses. Jamie has industry knowledge and experience having worked for the design agencies Pentagram, Johnson Banks and Landor Associates. He worked as the in-house designer at art supplies retailer Cass Art. In addition he has worked for furniture design company LagoStudio in Italy, and also leads his own professional practice as a freelance designer.
The course is also taught by visiting tutors, alumni and UAL staff.
How to apply
To apply for this course please click on the "Apply" button located at the top of this page, you will be redirect to a course application form which you will need to complete.
We will only review completed applications, which must include:
A completed application form
A short statement (no more the 350 words)
Students applying for an MA course must include a draft of their MA project proposal
15-20 high resolution images of your work
All international students from outside the European Union will need a Short-term Study Visa (STS) in order to attend one of our portfolio courses. To find out more please visit UAL's Immigration guidance for short course students web page.
Fees and funding
Home/EU fee
£3,995 per stage
International fee
£3,995 per stage
Additional costs
In addition to tuition fees you are very likely to incur additional costs such as travel expenses and the cost of materials, for more details please visit the UAL's Additional Costs webpage.
Accommodation
Please visit the Accommodation webpage to see the options available to you and to find out how much they will cost.