CollegeLCF
Start dateSeptember 2017
Course length1 year
International: Introduction to the Study of Fashion (FE Level 3)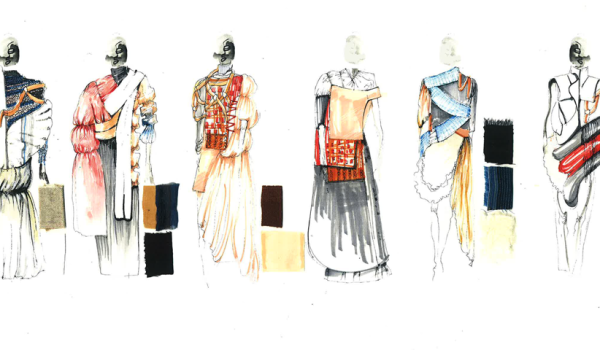 Course detail
The course is based in Lime Grove in Shepherd's Bush, just west of Holland Park and Notting Hill. The area, which is rich in cultural influences from across the world, is home to Shepherd's Bush Market and the many fabric shops along the Goldhawk Road, which sell a variety of fabrics, including silks, at extremely competitive prices. There are numerous restaurants, cafes, delis and food stores, as well as the market, which reflect the many cultures of the people living there. Nearby is the Shepherd's Bush Empire, an excellent venue for live bands, and the Westfield Shopping Centre, one of the largest retail complexes in Europe that caters for the luxury market as well as the high street. Holland Park with its Orangery and Leighton House Museum are both worth visiting.
Course structure
Year one - level 3 - 120 credits
Term one
Study Skills Tool Box for Fashion (20 credits)
Terms one and two
Introduction to the Fashion System (40 credits)
Term three
Progression Portfolio for Undergraduate Study (20 credits)
Terms one and two
Fashion History, Culture and Context (20 credits)
Terms one, two and three
Academic Communication for the Study of Fashion (20 credits)
Fiona Howard, Course Leader, has specialist knowledge and experience of working on Level 3 Fashion courses and working with International students. Fiona is also a graduate herself from London College of Fashion. Fiona has worked across a wide range of areas in the fashion industry including having her own label, freelance work and employed as head designer for womenswear design companies that supplied high street stores such as Topshop, Miss Selfridge and Harvey Nichols. Fiona also has experience with textile manufacturers and the film and theatre costume industry.
Giles Pearson is L3 Intl Introduction to the Study of Fashion Design Pathway Tutor. Since graduating in 2000 Giles has worked across a wide range of areas in the fashion industry predominately womenswear based – from couture and costume to commercial fashion products, printed textiles, jewellery and menswear. Joining London college of fashion in 2007 as a part time design lecturer , he continued in his practice as a freelance designer in the music industry and created directional pieces for many performers as well as creating commission pieces for amongst others Vogue, Harpers , Elle, Tate Modern and ITV. Joining the IISF course as the full time design subject lead Giles has specialist knowledge and experience of working with international students and introducing a broad spectrum of design possibilities.
Demetra Kolakis Media Pathway Leader on IISF
Mark Quincey is Academic Language and Language Acquisition Skills Lecturer. Mark has been teaching English language for over 15 years and also works as an IELTS examiner. Several of those years were spent teaching at universities in Japan before he returned to the UK and began working to prepare bespoke academic and exam preparation focused English courses for international students in the UK who were preparing for IELTS, GMAT, TOEIC and other academic exams as well as providing support to BA and MA students studying subjects as diverse as Art and Law. Mark now works with LCF's level 3 and 4 students and the UAL professional to ensure our students' language skills reach the level required by their courses.
Michael Giaquinto is Academic Language and Language Acquisition Skills Lecturer
Supporting staff
Heidi Stokes, Tutor IT
Carlyn Maguire, Tutor Media and Design
Paul Buckle, Tutor Business
Mick Gibbons, Tutor IT
Liza Betts, Lecturer Cultural Historical Studies (Intl Office)
How to apply
Please note: This course is for international students only (non EU countries).
Applications have now closed for 2018/19 entry.
Applicants may apply through one of the following routes only:
The admissions team at London College of Fashion will help guide you through the application process and answer any specific questions that you may have regarding our courses tailored for international students. This may include portfolio advice, the application process and fee advice. We offer a 'drop-in' facility for applicants who may be in London and wish to obtain further course and admissions information. Please contact us for further information on this facility. We can also arrange a tour of our facilities if we are given prior notice.
Course and portfolio guidance
This document offers guidance for the portfolio and interview stage of applying.
Application process
UAL have a new Admissions service and there are different contact points for each stage of your enquiry and application. Overview below:
Stage 1 - Pre Application Enquiries
Enquires about LCF, courses and application processes are supported by LCF Admissions
If you have questions regarding making an application please contact the admissions team at London College of Fashion lcf.international@arts.ac.uk
Stage 2 - Application Enquiries
Application information is sent by UAL Admissions. Once you have made an application a member of the UAL Admissions team will contact you and support the next steps of the process; please contact them on ual.internationalapply@arts.ac.uk if you have questions regarding your application.
Stage 3 - Interview Enquiries
Interviews are arranged by LCF Admissions
If you have reached interview stage and have any questions please contact the admissions team at London College of Fashion lcf.international@arts.ac.uk
London College of Fashion Admissions Team, 20 John Prince's Street, London W1G 0BJ
Telephone: +44 (0)20 7514 7656/7629
Stage 4 - Offer Enquiries
Offer information is managed by UAL Admissions
UAL will send you confirmation of an offer. If you need further information in support of your application or about any offer you have received please contact the UAL central admissions team ual.internationalapply@arts.ac.uk.
Entry requirements
Successful completion of school education to at least Level 2.
English language requirements
All classes are conducted in English. If English is not your first language you will be asked to provide evidence of your English language ability when you enrol.
The level required by the University for this course is IELTS 5.0 with a minimum of 4.5 in any one skill.
Please visit the UAL Language Requirements page. Read carefully and look at the relevant documents.
You must take the IELTS Academic Test for UKVI, no other test can be accepted.
Student selection criteria
What we look for
The College seeks to select students who can demonstrate:
A broad interest in fashion as a future career
Motivation to succeed on the course
Motivation to progress to an undergraduate course at LCF
An interest in increasing your skills through personal and professional development (PPD)
Please include with your application a portfolio of work which demonstrates your interest in fashion. This should be a combination of visual and written work.
What happens next
All application forms, personal statements, supporting work and references are read and considered by the International Academics against the selection criteria listed in the Entry Requirements and What We Look For sections.
If you meet, or are likely to meet, the entry requirements you will be selected for an interview. If you are successful at interview you will be offered a place.
Fees and funding
This course is open to international students only
International fee
15,460 (+ registration fee).
Additional costs
In addition to tuition fees you are very likely to incur additional costs such as travel expenses and the cost of materials.
Printing £500 max
Various materials (paper, fabric) £300 max
Enrichment (galleries, exhibitions etc) £200 max
Please read the information on our additional costs page.
Accommodation
Find out about the accommodation options available and how much they will cost.
Careers and alumni
Graduate prospects
If you successfully complete this course, you will gain a qualification and will have the opportunity to progress to an undergraduate course at LCF, provided you meet all the conditions of your offer. Which course you may be offered will be dependent on the quality of the work done by you through the course. For some undergraduate courses a portfolio will be required, and for other courses there may be a written or numerical test. All applicants for an undergraduate course at LCF on this course will be interviewed A very small number of students, in exceptional circumstances, may progress to our International Preparation for Fashion course (level 4), where it is in the interests of the student to develop their skills further before undertaking a three or four year undergraduate course at LCF.