CollegeLCF
Start dateJanuary 2019
Course length15 weeks
Postgraduate Certificate Fashion: Fashion Visual Merchandising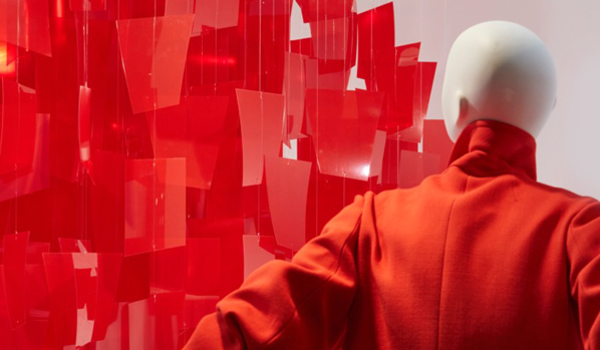 This course is open for recruitment to join the course in January 2019. The application form will be available soon. View the 'How to apply' section on this page for more details.
This visual merchandising course is developed in collaboration with our industry networks, and allows students to create innovative visual merchandising solutions, with a focus on creativity, innovation and new technologies.
About this course
The Postgraduate Certificate in Fashion Visual Merchandising provides a highly focused and vocationally-orientated period of full-time study at advanced level in the field of Fashion Visual Merchandising. It is designed both for graduates (or equivalent) and those with appropriate industry experience, who wish to develop their career in the highly competitive fashion and creative industries. The course is suitable as a preparation for higher level postgraduate study, for example one of the Master's Degrees within the LCF framework.
Facilities
Take a tour of LCF's world renowned fashion library, ideal for research and study.

Take a tour of lecture theatres and tutorial rooms across our central London sites.

Explore our social spaces, for collaborative study and breaks, across our six sites in London.
Course detail
The programme builds upon strengths already developed within the college including staff expertise, specialist facilities and close industry links, to provide a suitable learning environment for this specialist study. It is designed to meet both local, regional and international needs for vocational education in aspects of the fashion and creative industries which have a high concentration of activities in London.
London College of Fashion is situated in the heart of the fashion district in London, with sites in the West End on Oxford Street, West London in Shepherd's Bush and the East End in Shoreditch, a centre for manufacturing, wholesale and retail trade, and increasingly for young designers.
The course has been established to extend the post graduate provision at the college, and has been developed in conjunction with the Fashion Visual Merchandising industry and specialist staff. The Course leader has appropriate specialist expertise and professional experience and staff continue to engage in professional practice and new developments. In addition to the course leader, teaching staff will be drawn from specialists in the appropriate fields, either from within college or as visiting lecturers from industry.
This is a fashion business course with a vocational focus on Fashion Visual Merchandising. It combines a post graduate level academic experience with the vocational realities of Fashion Visual Merchandising. The content includes application of Fashion Visual Merchandising, branding, technology to case studies and a combination of individual and collaborative work. The course provides a range of vocational knowledge and skills for those seeking or looking to develop and further their career in Fashion Visual Merchandising.
Distinctive features include strong links with the Fashion Visual Merchandising industry and the practical emphasis on the application of skills including the final project.
Course structure
Weeks 1-5: Visual Merchandising and the Brand Experience (20 credits, level 7)
Weeks 5-10: Collaborative Project (20 credits, level 7)
Weeks 2-15: Futures and Innovations Project (20 credits, level 7)
Travelling across London
The renowned London College of Fashion library is at our John Prince's Street site, and you will need to travel to this site, and possibly others, during your course to use the library, which is open seven days a week in term time, and for tuition and special events.
Course structure
The information outlined is an indicative structure of the course. Whilst we will aim to deliver the course as described on this page, there may be situations where it is desirable or necessary for the University to make changes in course provision, for example because of regulatory requirements or operational efficiencies, before or after enrolment. If this occurs, we will communicate all major changes to all applicants and students who have either applied or enrolled on the course.
Please note that due to staff research agreements or availability, not all of the optional modules listed may be available every year.
In addition, the provision of course options which depend upon the availability of specialist teaching, or on a placement at another institution, cannot be guaranteed. Please check this element of the course with the course team before making a decision to apply.
Webpage updates
We will update this webpage from time to time with new information as it becomes available. In the meantime, if you have any questions, please contact a member of the course team.
Course units
The Visual Merchandising and the Brand Experience unit provides you with an overview of current visual merchandising practice and the application of advanced skills to create three dimensional environments. This unit will also introduce you to the many different components of Fashion Visual Merchandising, which are ultimately applied as a strategic vision to the organisation. The unit examines visual merchandising practice to develop the brand experience, including the exploration and evaluation of the various touch points of the commercial environment, a critical understanding of the nature of Visual Merchandising and its role in the wider context, and the application of design research methods.
The Collaborative Project unit aims to enable you to form and develop collaborative working relationships with partners within the course and with an external brand, design agency or supplier, where appropriate, in order to research, develop and a produce a solution for an identified Visual Merchandising issue. The pivotal part of this project is the opportunity to develop and apply creative practice based skills and to work with others who bring specialist knowledge and expertise. The unit enables you to develop strategies to manage organisational and communication challenges, and address the complexities of working with people you are unfamiliar with and with whom you need to synthesise as a group to produce a professional outcome within a short time frame.
The Futures and Innovations Project unit will enable you to consolidate your learning over the fifteen weeks in a project culminating in a future facing Fashion Visual Merchandising installation. The identification and evaluation of commercial and consumer trends through a series of inspirational lectures, which supports the development of your creative outcome. Lectures and studio workshops will also develop your understanding of project management, budgeting and negotiation as well as consider the sustainability of your proposal and issues concerning intellectual property.
The project will require you to communicate your design ideas using computer aided design and other 3D methodologies or technological innovations. The work you produce for this project will be self-directed whilst being supported through lectures, small group and individual tutorials, and studio workshop sessions. The intention is that this will be an innovative and creative project which will reflect your own interests and support your career development. You will be expected to begin thinking about your project topic during the first few weeks of the course.
Showing your work
All students are advised to set up a profile on portfolio.arts.ac.uk, UAL's new portfolio platform, which can be done at any point during your time at LCF and will last for up to 12 months after graduation. This platform is often used to source student work for promotional use on the website, social media and for print and can be a great way of getting your work seen. You may also be asked to have a portfolio profile for the selection process when it comes to degree shows.
Learning and teaching methods
Lectures, seminars and workshops
Online and digital learning
Museum and gallery visits
Feed-forward (formative assessment) sessions
Tutorials
Small group presentations
Masterclasses
Guest speakers
Group work
Optional international study tours
Assessments methods
Case studies
Practice-based assessments
Blogs
Peer assessment
Reflective statements and self-evaluation
Presentations
Group (collaborative) work
Staff
Jonathan Baker is the Course Leader for the Post Graduate Certificate in Fashion Visual Merchandising. He is also a freelance industry consultant, writer and blogger (www.retailstorewindows.com) and former Chief world Expert in Visual Merchandising for Worldskills.org. Jonathan previously worked within the retail and visual merchandising industry across 18 high street brands, including Topman, Topshop, Burtons, and has taught for 17 years. He studied MA's in Design at Central St. Martin's and Art in Architecture (UEL), has also taught Visual Merchandising at several international Universities and presented as a guest speaker at conferences in New York, Moscow, Beijing, Herfei, Shanghai, Amsterdam, London, Dubai, Rome, Panama, Guatemala and Lisbon.
Jonathan is also a Fashion Visual Merchandising industry consultant and visual researcher for global retail brands such as Timberland (USA) and a consultant at Central St. Martin's College of Art and Design Innovations centre having worked with Dr. Martens (UK), Ochirly (China) and Mascotte (Russia). Jonathan has regularly written for publications such as Retail Focus Magazine (10 Commandments of Visual Merchandising) and has contributed to Frame Magazine ('5th Ave. NYC' and 'Not Everyone is buying it'), Radio Canada (Trends in Visual Merchandising), DR Kultur TV Denmark (Burberry), Boutique, Midday India, Drapers, Style Guide and TNT. His first book Fashion Visual Merchandising is published by Bloomsbury Press.
Craig Crawford is Founder of CrawfordIT, a London based consultancy that drives momentum and growth through digital innovation for brands such as Hugo Boss, Jaeger, matchesfashion.com, Diane von Furstenberg, MaxMara, and Tory Burch. Prior to this, Craig Crawford was Burberry's VP in IT Strategy, Architecture and Relationships for seven years. As a creative with nearly 30 years' experience in global fashion brands, Craig is often referred to as "the right brain of IT." Craig is also Chairman of Product Innovation Apparel, where he connects global industry leaders and technology innovators. He advises fashion tech start-ups in both the UK and US. His articles, videos, and webcasts appear on both sides of the Atlantic. As an Adviser for London College of Fashion, Craig brings industry relevance to the classroom.
Johnny Martin FCA Entrepreneur in Residence at London College of Fashion. He is professionally, The Numbers Coach – an experienced director who now passionately explains business numbers and jargon to help young businesses find their business model. He is a British Library Business & IP Centre partner and runs regular workshops, as well as being a mentor for the Royal College of Art Innovation Unit.
How to apply
Opportunities for all
We are committed to making university education an achievable option for a wider range of people and seek to recruit students from diverse socio-economic, cultural and educational backgrounds. We are committed to supporting all our students in achieving their potential both during and after their courses.
Home / EU and international applicants
This section includes information on how to apply, course entry requirements and selection criteria.
Both Home/EU and international students can apply for this course using our online application form – the link to this is below. Before you apply, we recommend you take some time to read the following details about the application process, including guidance on the extra information we will ask you to provide.
Alternatively, international applicants can apply through an overseas representative in your country.
Application form
You will need to enter the following information in the online application form:
Personal details (including full name; date of birth; nationality; permanent address and English language level)
Current and/or previous education and qualification details
Employment history
Before you can submit the form, you'll also need to agree to the terms and conditions for how we process your data – these are explained in the form.
Please note, if you're an international applicant we will need to contact you separately to ask for copies of certain documents (for example, English language qualification/certificate and copies of any previous UK study visas).
Extra information required for applications to this course
When you are submitting your application form, you will also need to provide the following pieces of documentation in support of your application:
Curriculum Vitae
You will be required to submit a Curriculum Vitae (C.V.) in support of your application. This should include your full education and employment history.
Personal statement
The personal statement is your opportunity to tell us about yourself and your suitability for the course that you intend to study.
Some key points to consider:
Make sure that personal statement is your own work and is about you.
Cover why you want to study the course you are applying to.
Try to link your skills and experience required to the course.
Demonstrate your interest and enthusiasm for the course and link these with your personality.
Make sure it is organised and literate (grammar, spelling, punctuation check).
Portfolio
You will be required to submit a digital portfolio with a maximum of 30 images that you consider would help support your application. Submit your portfolio via the university's digital portfolio tool, PebblePad. More details will be sent to you after you have submitted your application. Label and present any visual work with care, including dates and captions.
Apply for this course commencing September 2018
Apply for this course commencing January 2019
Entry requirements
Entry to this course is highly competitive: applicants are expected to achieve, or already have, the course entry requirements detailed below.
Portfolio of previous and current experience within a related design industry
Evidence of prior learning at undergraduate level and a first degree (or equivalent) in a related discipline
IELTS Level 6.5 or equivalent, if English is not the first language
Exceptionally, applicants who do not meet these course entry requirements may still be considered if the course team judges the applicant to have demonstrated additional strengths and alternative evidence. This might, for example, be demonstrated by longevity of industry experience, related academic work or work experience, or a combination of these factors.
Student selection criteria
What we look for
The course seeks to recruit students who can demonstrate:
a strong commitment and motivation towards a career in Fashion Visual merchandising;
an awareness or relevant experience of Fashion Visual Merchandising;
appropriate knowledge and skills commensurate with planned entry into the fashion visual merchandising course.
English language requirements
All classes are conducted in English. If English is not your first language you will be asked to provide evidence of your English language ability when you enrol.
The level required by the University for this course is IELTS 6.5 with a minimum of 5.5 in each skill.
Interview advice
At interview, applicants will be expected to demonstrate an awareness of fashion and business in general and fashion visual merchandising in particular.
International applicants
International applicants should contact the Admission Office by emailing lcf.international@arts.ac.uk about portfolio requirements (if applicable), interview times and dates.
Fees and funding
Home / EU fee
£2,840
This applies for the 2017/18 academic year.
ELQ
Home/EU students whose chosen course is at a level equivalent to, or lower than, a qualification that they already hold, will be charged the fees shown above, plus an additional £1,100 (called the 'ELQ' fee). Students in receipt of Disabled Students' Allowances (DSAs) are exempt from ELQ fees and will pay the original fee, regardless of the highest qualification held. For enquiries relating to ELQ fees, please complete the course enquiry form.
International fee
£5,975
This applies for the 2017/18 academic year.
Additional costs
In addition to tuition fees you are very likely to incur additional costs such as travel expenses and the cost of materials. Please read the information on our additional costs page.
Accommodation
Find out about the accommodation options available and how much they will cost.
Career paths
Some graduates from this course may progress onto suitable MA courses in the areas of business and management, while others enter employment in the industry, gaining entry-level (and above) positions in fashion visual merchandising.
Current undergraduates in the department have secured permanent employment at brands including Tom Ford, Louis Vuitton, DZD, John Lewis, Dolce and Gabbana, Etro, And Other Stories, H&M, All Saints, Proportion London, Gap, Top Man, Marks & Spencer, Ann Summers and Harlequin Design.
The course also offers collaborative working to replicate commercial practice in conjunction with industry partnerships through live / simulated projects. The department is recognised by global and UK brands, and industry collaborations and competitions are already embedded at undergraduate level with recent partners of the Visual Merchandising courses including Liberty, Anthropologie, ASOS, Warehouse, John Lewis, Fortnum and Mason, Amnesty International, Hyundai, Sue Ryder, Moshi Monsters, Fenwick of Bond Street, Nicole Farhi, Canadian High Commission and Cofrad Paris.